Meet the Team at Linford Chiropractic
Dr. David Linford, B.Sc., D.C.
Dr. Linford graduated from University of Alberta in 1994 with a Bachelor of Science degree, and then finished a Doctor of Chiropractic Degree from Western States Chiropractic College in 1998.
Dr. Linford has been in practice as a Sherwood Park Chiropractor for over 20 years and was co-owner of Brentwood Chiropractic Clinic for 10 years before opening the Linford Chiropractic in 2013.
Dr. Linford has been a Council member for the Alberta College and Association of Chiropractors, and was the Edmonton Chiropractic Expert on HELP TV for over 5 years. He was also a volunteer Coach with the Sherwood Park Kings Athletic Club and the Sherwood Park Minor Hockey Association and Past President of the Sherwood Park District Soccer Association.
Dr. Linford has post-graduate training that includes gait mechanics, orthotic fitting, kinesiotape, sports injury management, whiplash injury, TMJ dysfunction and he is a certified Graston technique practitioner.
A firm believer in proper rehabilitation for musculoskeletal injury, Dr. Linford had first hand experience with the effectiveness of Chiropractic care as a WHL hockey player in the late 80's. In addition to sports injuries, Dr. Linford treats a variety of complaints from spinal problems to shoulder, wrist, elbow, knee and ankle strains and sprains. Utilizing a multitude of techniques and modalities also allows the widest choice and treatment options for his patients.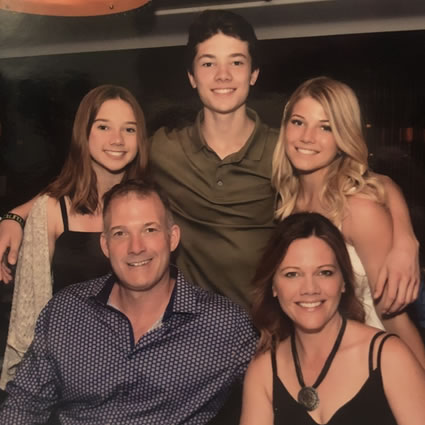 Dr. Maher Audeh, B.Sc., D.C.
After graduating from the University of Alberta in 2001 with a Bachelor of Science, my experience with chiropractic started with a car accident. I was diagnosed with whiplash that led to debilitating neck issues. After seeking chiropractic care to resolve my neck problem, I decided to pursue a career in helping others in pain. So, I was off to sunny California to attend Palmer College of Chiropractic – West located in the Bay Area.
During my studies I was a member of the Sports Council, where I volunteered at many sporting events helping the participants reaching their optimal performance levels and mending their injuries. My love for sports has also led me to be a member of the 2007 golf team at the annual Chiro Games in Florida. I also volunteered at outreach clinics in the Bay Area Salvation Army Rehabilitation Clinic and the Emergency Housing Consortium Chiropractic Clinic providing chiropractic care.
During my spare time at the college I was elected the Associated Student Government Treasurer, where I had to deal with organizing and funding student body activities.
Dr. Maher Audeh joined Linford Chiropractic in September of 2014. He has been a Chiropractor in the Sherwood Park and Edmonton Area since 2010 and is avaliable to see patients Monday through Saturday with flexible hours.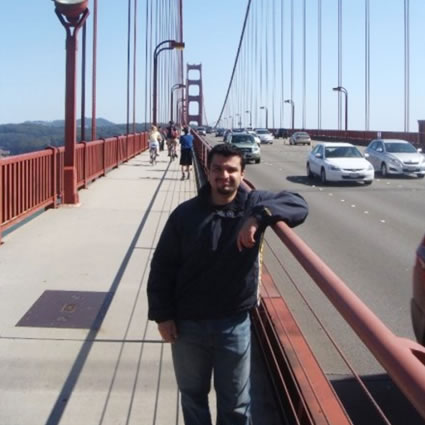 Dr. Todd Halowski, B.Sc., D.C.
Dr Halowski has been in practice for 15 years. His core training as a chiropractor has been supplemented with education and experience in soft tissue injuries diagnosis and management utilizing manual therapies. Additional competence explored the diagnosis and management of mild traumatic brain injuries (concussions) and the provision of interventional treatment.
Before his 15 years of practice experience, Dr Halowski graduated Summa Cum Laude in 2005 from the Palmer University Health System at Palmer College of Chiropractic in Iowa. His chiropractic education was built on solid health education in kinesiology obtained from the University of Calgary in 2000.
He supports his patients by diagnosing why they hurt and the health challenges that limit their life. If he is not the best person to help you, he will make sure to help you find the right person.
Read more about Dr. Todd »
Dr Halowski and his wife have four active children, which makes for full and busy family time. Their children enjoy a variety of sports and activities and he finds joy in watching his children grow and experience so many new and challenging activities.
Dr Halowski is pleased to be joining the Linford Chiropractic Team on Monday, Tuesday, and Thursdays as well as select Saturdays.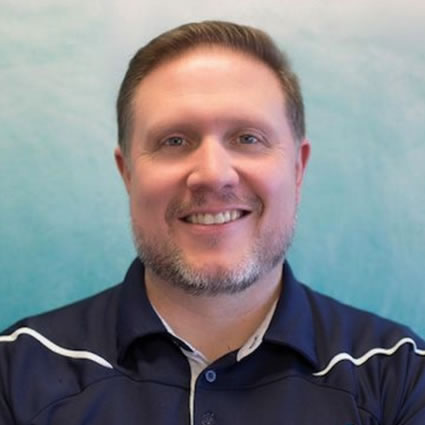 Dr. Rachel Parker, B.Sc., D.C.
Dr. Parker graduated with a Bachelor of Science in Kinesiology and played for the women's varsity soccer team at the University of Calgary. She then completed her chiropractic training at the University of Western States in Portland, Oregon. Currently, Dr. Parker is completing a post-graduate training program in Clinical Neuroscience and Rehabilitation, through the Carrick Institute.
Dr. Parker's passion for Chiropractic and NeuroRehabilitation stems from years of competitive athletics and the numerous musculoskeletal injuries and concussions sustained throughout. These experiences helped fuel Dr. Parker's passion to work with people and help them understand their pain, reduce risk for future injury and optimize health and physical performance.
Read more about Dr. Rachel »
Dr. Parker takes a special clinical interest in concussion / mild traumatic brain injury, vertigo, and athletic performance. She strives to help change the conversations surrounding concussion and the current approach to recovery and performance by providing individualized assessments and management protocols that evolve with the most current research.
Whatever your health and performance goals may be, Dr. Parker looks forward to helping you work towards achieving them through a collaborative and evidence-based approach.
Outside of the clinic, you can find Dr. Parker at the bouldering gym, hiking, cross-country skiing or doing CrossFit. When not playing sports or outdoors, you may find her hanging out with friends, her pets or cooking up new recipes!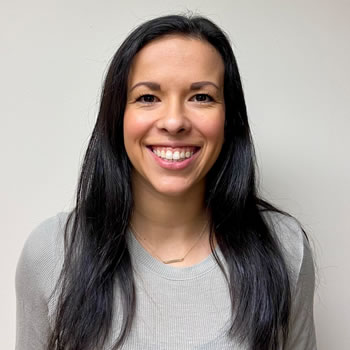 Book Your Visit
Our team of focused chiropractors would love to work with you and learn more about your health goals. Get started today by contacting us to book an appointment. We can't wait to welcome you into the practice.
Janelle Dziekciarz, RMT
Janelle's interest in massage therapy grew from 17 years of experience as a high performance athlete. She was a national level springboard platform diver, and an elite artistic gymnast from the ages of 2-19.
She graduated from the Lakeland College for Massage Therapy in 2006 and spent a year working with the national diving team. Janelle has additional training in relaxation, infant, prenatal/pregnancy, hot stone and TMJ massage therapy.
She has a passion for utilizing therapeutic massage as a means to maintain optimal health and improve function for her patients. Janelle has been practicing with Dr. Linford since 2007.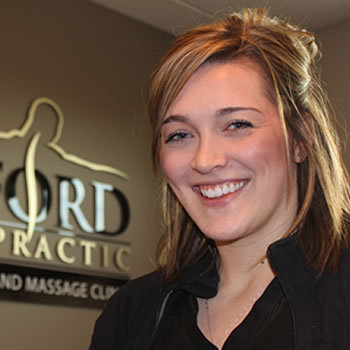 Karen Miller, RMT
Karen has always had a passion for helping people. She became a certified Massage Therapist in 1996 and although did not work full time as a therapist, she maintained her skills with massage treatment for friends and family. Since becoming a mom to two beautiful girls, Karen rejoined the workforce as a therapist in 2013 and recently received her 2200 hours certification. She is very excited to continue sharing her skills as part of the team at Linford Chiropractic.
With a caring touch, Karen delivers deep tissue massage to achieve quick results, while also able to provide a lighter touch to those who are new to massage treatment.
An outdoor adventurist and an avid runner, Karen believes in an active lifestyle to stay fit and healthy.

Nicole Good, RMT
Nicole was born and raised in Sherwood Park and has been practicing there as a registered massage therapist for the last 11 years, joining the Linford Chiropractic Clinic Team in April, 2015. She graduated from Lakeland College in 2005 and obtained her 2200 hour certification in 2013.
Nicole specializes in deep tissue and therapeutic massage as she finds this type of treatment to be the most beneficial. She believes this is especially true for those who suffer from chronic pain, headaches, strains/sprains, injuries, and motor vehicle accident clients. She is also experienced in relaxation massage, trigger point therapy, and pre-natal massage.
Nicole is excited to be working alongside the Linford Chiropractic team to provide a wide range of modalities to her clients to achieve optimal results.
Outside of work Nicole enjoys keeping active. She enjoys hiking, biking, skiing, and baseball. She also enjoys painting, gardening, and spending time with her family and friends.

Amy Gardiner, RMT
Amy grew up in Edson and has been working as a Registered Massage Therapist there since she graduated with her 2200 hour diploma in 2015. Amy is passionate about her career and is excited to be moving her practice to Sherwood Park. In addition to offering her patients Therapeutic, Relaxation, Sports, and Pre & Postnatal Massage, she is also certified in Myofascial Cupping. Amy is very outdoorsy and loves to spend her free time with her horse, on her SUP board or hiking with her dogs.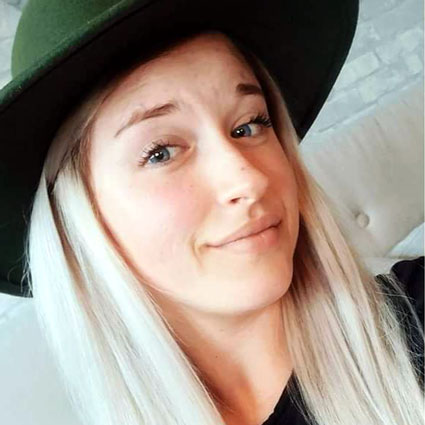 Helena Hyslop, RMT
Helena was born and raised in Sherwood Park. She graduated with her 2200 hours Massage Certification in 2005 and worked with Dr Linford until 2008. Helena took a step back from Massage to be home to raise her family. She has 2 active boys who both love baseball, Taekwon-Do, speed skating and 5-pin bowling.
Helena is very excited to rejoin Dr Linford and the Linford Chiropractic Team. She specializes in therapeutic and relaxation massage and looks forward to learning new techniques. Helena has a passion for helping people and making everyone smile and laugh.
Her favourite hobbies include crochet, baking and of course being the loudest cheerleader for both her boys and husband at their various events.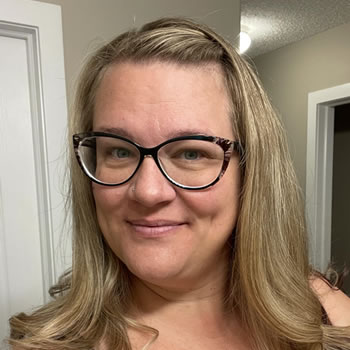 Learn More Today
Learn more about our entire team when you become a patient with us. We can't wait to help you feel welcome in our health-first environment.
Book your visit today!
Nicole Linford, Clinic Manager
Nicole Linford is clinic manager for Linford Chiropractic and oversees all billing, administrative and Human Resources detail. She graduated in 1995 from the University of Alberta with her Bachelor of Commerce degree. Outside of the clinic, she is very proud of her involvement in raising her three children Alyssa, Matthew and Gabby. In her spare time she enjoys travelling with her family, reading and exercising.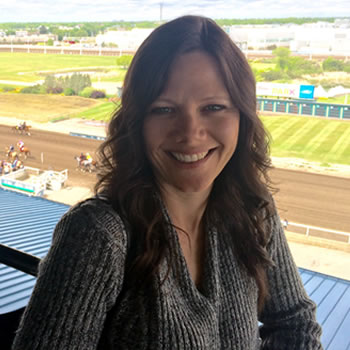 Tracey Samel, Office Administrator
Tracey joined Linford Chiropractic in March of 2015 bringing with her many years of management and customer service experience. Outside of the clinic Tracey enjoys gardening, reading, a variety of scrapbooking activities, and spending time with family and friends. She also enjoys travelling and seeing new sights with her husband, Peter, and two children Carter and Spencer.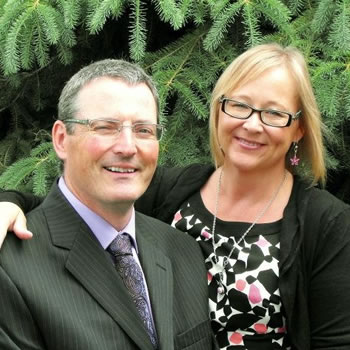 Marin Bennett, Therapy/Administrative Assistant
Marin joined the Linford Chiropractic Team in April of 2022. She grew up playing competitive soccer for most of her youth. She loves sports, being active and watching hockey. Marin graduated from Salisbury Composite High School in June, 2021 and would like to take some courses in nutrition in the future. In her spare time she is a volunteer coach for high school girls varsity soccer and loves spending time with her family and watching her brothers play hockey. She is excited for the the opportunity to work with the Linford Chiropractic Team and is looking forward to gaining experience in the Healthcare field!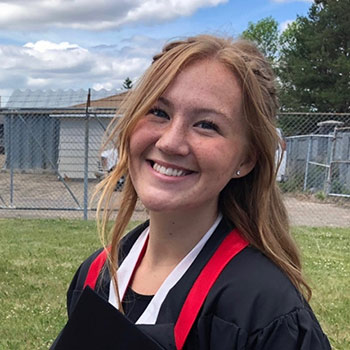 Melissa Martin, Administrative/Therapy Assistant
Melissa joined the Linford Chiropractic Team in December 2022 as an Administrator/Therapy Assistant. She is passionate about helping others and is excited to be working in the Healthcare field. On the weekends you can either find her in the Hockey Arena Stands with her husband Mike cheering their son Marcus on or in the Library/BookStore browsing the stacks with her daughter.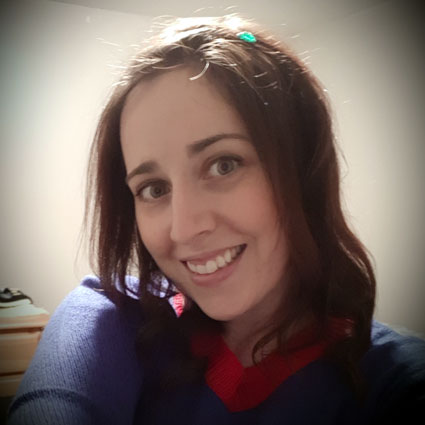 Get to Know Our Team
We'd love to meet you and help you learn more about the benefits of visiting us for focused care. Book your session today!

Meet The Team at Linford Chiropractic | (780) 640-9488