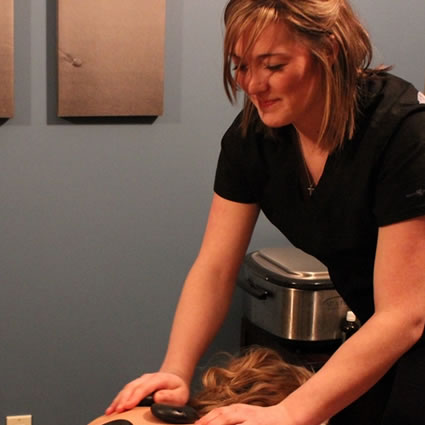 Massage Therapy at
Linford Chiropractic
Massage therapy is the manipulation of soft tissues of the body. The purpose is to normalize the tissues with manual techniques that include applying pressure, holding, and causing movements of the body. Massage increases the circulation of blood and the flow of lymph. This reduces muscular tension and affects the nervous system through stimulation and relaxation causing the tissue to heal. Our therapists offer the highest quality of care to our clients and care about all aspects of their treatment.
We customize each session to meet your specific needs by incorporating a variety of assessment and treatment techniques that are best suited to you as an individual.
Therapeutic Massage
This massage focuses on manipulation of superficial and deeper layers of muscle and connective tissue using various techniques to enhance function, aid in the healing process, decrease muscle reflex activity, inhibit motor-neuron excitability and promote relaxation and well-being.
Relaxation
This massage will encourage better digestion, improve circulation, calming the nervous system and moving fluid through your lymphatic nervous system to promote detoxification. Relaxation massage shortens recovery time from muscular strain by flushing the tissue of lactic acid, uric acid and other metabolic wastes.
Prenatal
Prenatal massage is a form of massage specifically tailored for the expectant mother's needs and properly positions the body to ensure comfort and safety for both mother and baby. Prenatal massage has been found to reduce stress, decrease swelling, and relieve aches and pains in the muscles and joints.
Sports Massage
Sports massage is a form of massage therapy geared toward participants in athletics. It is used to help prevent injuries, to prepare the body for athletic activity and maintain it in optimal condition, and to help athletes recover from workouts and injuries.
Sports massage has three basic forms: pre-event massage, post-event massage, and maintenance massage.
Hot Stone
Hot stone massage is a variation of massage therapy where smooth, flat stones are heated and placed on key points of the body to warm and relax the muscles. Hot stone massage has been used to treat a variety of conditions such as depression, osteoarthritis, anxiety, insomnia and poor circulation, as well as stimulate the energy centers of the body to help re-balance the body and mind.
Infant Massage
Infant massage refers to the process of stroking muscles of an infant using a variety of specialized massage techniques, vocalization, and eye to eye contact. Babies massage is used to promote social-emotional-cognitive and physical development. As the primal language of touch and sensation, infant massage has been proven to ease discomfort with with constipation, improve circulation, aid in digestion, stimulate neurological development and improve immune function.
RAPID Neurofascial Reset
RAPID Neurofascial Reset, is a new soft tissue movement technique that addresses the central nervous systems role in alleviating pain, tension and restriction within muscles, tendons, ligaments, fascia, scar tissue and nerves.
RAPID is very different from traditional massage techniques, as the patient stays clothed and no oil is used.
Your Massage Therapist will be using very precise movement and pressure on the patient as they are either standing, sitting or laying down. Evidence shows that this new modality is great for treating issues such as tension headaches/migraines, frozen shoulder, bicep tendinitis, old shoulder injuries, nerve impingement, poor range of motion in joints, TMJ, and more.
If you are interested in booking a RAPID treatment, Amy offers both upper and lower body RAPID NFR.
Raindrop Aromatherapy
This massage is beneficial for relaxation, stress relief, tired achy muscles, managing stress and anxiety, boosting stamina and energy, and promoting overall health, vitality, and longevity. 9 different essential oils are applied along the spine, legs, and feet like raindrops and are gently massaged into the skin. Available appointments are 45 minutes, 60 minute, and 90 minute.
Essential oils used during treatment:
Valor
Thyme
Oregano
Peppermint
Cypress
Marjoram
Basil
Wintergreen
Aromasiez
Jade Stone Massage therapy
Jade stone is a semi-precious stone that has been used for massage for thousands of years. Jade has been known to relax the nervous system, and aid in the removal of toxins.
Each Jade stone is mined, cut, shaped, and polished. It can take an artist many hours to properly shape and polish one stone for massage. Jade stone is very smooth and non porous. They can be heated or cooled and are placed on or under the body as well as used directly for massage. When using stones, the therapist can work deep into the muscle tissue to release muscle tension and localized pain without any discomfort. Chilled stones provide just as powerful of a massage as heated stones. When used together, it can create a vascular flush increasing blood flow and removal of toxins.
Benefits of Jade Stone Massage include:
Increased Circulation
Provide treatment similar to hydrotherapy
Balance the body
Flush internal organs and systems
Improve Vitality
Improves sleep and overall sense of well being
Relieve Back pain, Sciatica, and Deep Muscle Tissue pain
Relieve Hypertension and Arthritis pain
Massage Therapy Hours and Rates
Please note that reception is open to answer phone calls only during reception hours (please find these hours in the Contact section of our website).
For the security of our practitioners, our front door will remain locked while they are with a patient when our reception is closed.
If you are arriving for an appointment outside of reception hours, please have a seat at the front door and your practitioner will assist you when they are ready for your appointment.
Monday – 8:00am – 8:30pm
Tuesday – 8:00am – 8:30pm
Wednesday – 8:00am – 8:30pm
Thursday – 8:00am – 8:30pm
Friday – 8:00am – 6:30pm
Saturday – 9:00am – 2:30pm
(open select Saturdays)
30 Minute – $65
45 Minute – $80
60 Minute – $100
90 Minute – $130
Raindrop Aromatherapy offered by Karen
45 Minute Raindrop Aromatherapy – $80
60 Minute Raindrop Aromatherapy – $105
90 Minute Raindrop Aromatherapy – $140
RAPID Neurofascial Reset treatment offered by Amy
RAPID Neurofascial Reset Assessment and treatment 45 mins – $90
RAPID Neurofascial Reset treatment 30 mins – $65
RAPID Neurofascial Reset treatment 15 mins – $45
Hot Stone offered by Janelle
60 Minute Hot Stone Massage – $110
90 Minute Hot Stone Massage – $145
Jade Stone offered by Amy
45 Minute Jade Stone Massage – $85
60 Minute Jade Stone Massage – $110
90 Minute Jade Stone Massage – $145


Massage Therapy Sherwood Park AB | (780) 640-9488