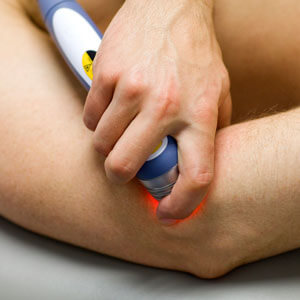 Cold Laser Therapy at
Linford Chiropractic
What Is Cold Laser Therapy?
Cold laser therapy is low-intensity laser therapy, or laser therapy that uses low levels of light to stimulate healing. Unlike surgical or aesthetic lasers, it does not cause your tissues to heat up.
Cold laser therapy is sometimes called low-level laser therapy (LLLT), low-power laser therapy (LPLT), or soft laser. You may also hear it referred to as therapeutic laser, biostimulation, or photobiomodulation.
How Does Cold Laser Therapy Work?
Low-level light is applied directly to the problem area. The tissue then absorbs the light. In a basic sense, this leads to a biological or chemical reaction to red and near infrared light. Damaged cells have a physiological reaction that helps promote their regeneration.
Differing wavelengths and outputs are used, depending on the purpose of the treatment. Generally speaking, wavelengths between 600 and 700 nanometers (nm) are used to treat superficial tissue. Wavelengths between 780 and 950 nm are used for deeper penetration.
During the procedure, you'll feel the device against your skin, but it creates no heat, sound, or vibration. Even better, it is completely noninvasive and painless. Most of the time, one treatment will take only a few minutes.
The technique is called "cold" laser therapy because the low levels of light are not enough to heat your body's tissue. The level of light is low when compared to other forms of laser therapy, such as those used to destroy tumors and coagulate tissue.
NEW PATIENTS
What Is Cold Laser Therapy Used For?
Chiropractors, doctors, dentists, physical therapists, and other medical professionals use cold laser therapy in a variety of ways. The main uses for cold laser therapy are tissue repair and relief from pain and inflammation.
Minor Injuries and Sprains:
Sports medicine practices use cold laser therapy in the treatment of minor injuries and sprains. It is used to help reduce swelling and promote healing of the joints and soft tissue.
Inflammation:
Dentists use cold lasers to treat inflamed tissues in the mouth and to heal ulcerations. Doctors also use it to treat inflammation caused by arthritis and other chronic autoimmune diseases.
Aches and Pains:
Pain clinics use it to help people who suffer from chronic pain. Therapeutic massage therapy sometimes involves cold laser therapy.
Skin Rejuvenation:
Cold laser therapy is used to promote skin rejuvenation. Dermatologists use it to treat various skin problems such as ulcers, burns, inflammation of the skin (edema), and rashes (dermatitis).
Wound Healing:
Cold laser therapy is being used to treat hard-to-heal wounds, including wounds related to diabetes.
Acupuncture:
Acupuncturists use cold laser therapy for clients who are uncomfortable with needles. The low-level laser beams can stimulate your acupoints the same way needles do, but without piercing your skin.
Is Cold Laser Therapy Right for You?
The use of cold laser therapy is growing in traditional medical practice and as complementary or alternative therapy. Under the care of a Chiropractor, doctor, or qualified practitioner, cold laser therapy is considered safe. Also on the plus side, it's noninvasive, painless, and there's no need for medication or other preparation. There are generally no side effects or reported adverse events.
Improve Your Health with Us
We're here to make sure you can get the most out of life. If you're ready to learn more, we invite you to schedule a consultation. Contact our chiropractic office today!

Cold Laser Therapy Sherwood Park AB | (780) 640-9488