Kinesio & Sports Tape at Linford Chiropractic
The name Kinesio was inspired by the science of Kinesiology, because proper muscle function is the key to total health and well being.
What is the Kinesio Taping Method?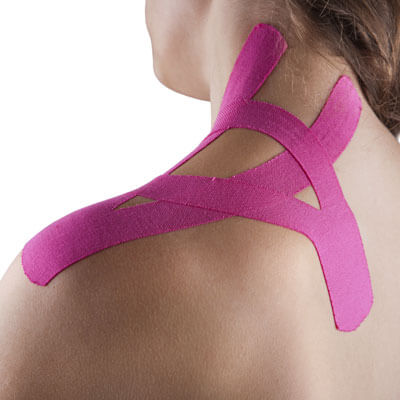 The Kinesio Taping Method is a definitive rehabilitative taping technique that is designed to facilitate the body's natural healing process while providing support and stability to muscles and joints without restricting the body's range of motion as well as providing extended soft tissue manipulation to prolong the benefits of manual therapy administered within the clinical setting.
Latex-free and wearable for days at a time, Kinesio Tex Tape is safe for populations ranging from pediatric to geriatric, and successfully treats a variety of orthopedic, neuromuscular, neurological and other medical conditions.
The Kinesio Taping Method is a therapeutic taping technique not only offering your patient the support they are looking for, but also rehabilitating the affected condition as well. By targeting different receptors within the somatosensory system, Kinesio Tex Tape alleviates pain and facilitates lymphatic drainage by microscopically lifting the skin. This lifting affect forms convolutions in the skin thus increasing interstitial space and allowing for a decrease in inflammation of the affected areas.
What does Kinesio Taping do?
The Kinesio Taping Method is applied over muscles to reduce pain and inflammation, relax overused or tired muscles, and support muscles in movement on a 24-hour-a-day basis. It is not a restrictive type of taping and allows for full range of motion.
In contrast, traditional sports taping is wrapped around a joint strictly for stabilization and support during an athletic event. Kinesio Tape is used to treat anything from headaches to foot problems and everything in-between. Examples include rehabilitation from sports injuries, carpal tunnel syndrome, lower back strain/pain (subluxation, herniated disc), knee and shoulder conditions, and many more.
NEW PATIENTS
FAQs
Is it the tape or the technique that gives such great results?
Without a doubt, the technique is the most unique; however, the full benefits were not possible until Kinesio Tex Tape was developed. The taping method requires a tape that is patient and skin-friendly, possesses optimum elastic qualities, is the same thickness as the skin, and is durable enough to stay on for multiple days, even through sweating and showers.
Without getting too technical, the tape is applied over the affected area with the muscles in a stretched position. Then the tape is applied from one end of the muscle to the other with very little to no stretch on the tape. The tape is applied from the ORIGIN to INSERTION of the muscle for SUPPORT and from INSERTION to ORIGIN for REHAB.
What are some suggestions for optimum taping results?
Skin should be free of oil, sweat, or lotion prior to application.
After application, rub down tape to activate heat-sensitive glue.
Avoid extreme stretching of the tape during application to avoid skin irritation.
Apply approximately 1 hour prior to activity or shower to allow glue to adhere properly.
Skin irritation is extremely rare, but care should be taken with hypersensitive skin patients.
Book An Appointment
Interested in learning more about the benefits of this technique? We'd be happy to speak with you and invite you to book a visit at Linford Chiropractic. Contact us today!

Kinesio Taping Sherwood Park AB | (780) 640-9488